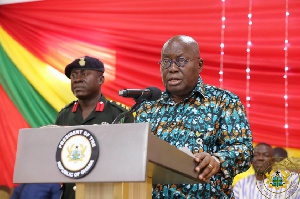 President Akufo-Addo will later today hold crunch meeting with security chiefs over the upsurge in armed robbery activities in parts of the country.
The President arrived in the country yesterday after cutting short his trip to the United States of America following the fear and panic that has gripped Ghanaians in the wake of the brazen robbery attacks.

Government has said its working tirelessly to arrest the problem at hand.

Vice President, Dr Mahamudu Bawumia on Friday assured that government is taking decisive steps to address the spate of armed robbery and other security breaches in the country, while he urged the public to play a watchdog role and report any suspicious activities to the appropriate authorities.

Today's meeting comes on the back of a similar one the Vice President held with security Heads last week.
The past week has seen several dreaded daylight robbery cases, especially in the capital, Accra with two lives lost and a number of injuries recorded.

On Tuesday, armed robbers in daylight stormed the Royal Motors at the North Industrial Area in Accra where amidst sporadic gunshots they succeeded in bolting with at least Gh¢500,000 of the company's sales.

On Wednesday, armed robbers in Tema shot dead a Lebanese businessman believed to be working with soap manufacturing firm Delta Agro after he had visited the Zenith bank bolting with a cash sum of GH¢200,000 among others.

Meanwhile, the Inspector General of Police announced a reshuffle in the top hierarchy of the Police administration after an emergency National Security Council meeting on Thursday, 1 March 2018.