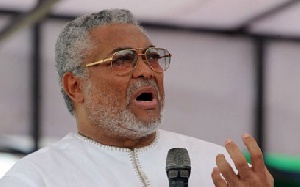 Former President Jerry John Rawlings has strongly cautioned the president, Nana Akufo-Addo, to with immediate effect put an end to political vigilantism as it breeds new standards of lawlessness in the country.
According to him, the president must act swiftly in dealing with issues of vigilantism as he is likely to lose the confidence of Ghanaians since perpetrators are not brought to book.

Speaking at the 36th anniversary of 31st December 1981 revolution in Ho on Sunday, the former President said "I have on a number of occasions made remarks about the current president. That notwithstanding, I have to caution that the rise of reckless vigilantism, which is breeding a new standard in lawlessness, has to be brought to book".

"Vigilantism perceived to be protected by political authority is a one-way road to a breakdown of law and order. The attacks on the High Court in Kumasi, the recent attacks on a Member of Parliament in Brong Ahafo and other reported incidents of highhandedness by perceived political agents have to be denounced forcefully and dealt with in a firm and swift manner that will inspire public confidence, he added.

Vigilantism in the country has become a major issue of concern in Ghana particularly prior to and following the NPP's assumption of office in January.
Several acts of vigilantism have been carried out by some youth wings of the NPP; seizure of toll booths and public toilets, lock up of some public offices including the NHIS offices in Bodi and Eastern Region and the school feeding office in Tamale, attacks on some public officers including the Ashanti Regional Security Coordinator, George Adjei and Dr. Prosper Akambong of the Tamale Teaching Hospital among others.

Recently, the Member of Parliament for Asunafo South Eric Opoku was attacked by some mob of NPP supporters numbering about a hundred and armed with machetes and guns. In the cause of the unprovoked attack, stones were pelted by the assailants at his residence causing damage to his vehicles.

President Akufo-Addo speaking at the extraordinary national delegates conference in Kumasi said the acts of the pro-NPP vigilante groups is due to unemployment for which government is putting in place measures to create the needed jobs for all.