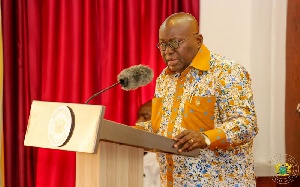 Private lawyer Maurice Ampaw has appealed to President Nana Addo Addo Dankwa Akufo-Addo not to succumb to pressure from the public and CSOs to to cancel the compulsory towing levy.
Parliament's Roads and Transport Committee approved the controversial levy with the Chairman of the Committee, Mr Samuel Ayeh-Paye, indicating that the decision was arrived at after extensive consultations with stakeholders in the road and transport industry.

This follows the passage of a Legislative Instrument (LI) on the road tow levy. But the passage of the levy has been met with huge public uproar.

For instance, the Ghana Committed Drivers Association (GCDA) has served notice of a demonstration dubbed 'Yentua Demonstration' – to wit: 'We won't pay demonstration' – if government does not rescind its decision to implement the controversial mandatory towing levy.

The Association has, therefore, called on the Ministry of Transport, government, Roads and Highways and the Road Safety Commission to halt the implementation of the towing levy.
"The Association is expressing or declaring a nationwide demonstration to protest against the implementation of this levy. The demonstration will be called 'Yentua Demonstration'. We wish to inform all drivers, car owners and all stakeholders to join this demonstration for the betterment of our country Ghana. We will send a notice to the police for the date and time they can be able to protect us on this demonstration," the statement added.

But speaking in an interview with Chief Jerry Forson, host of Ghana Yensom on Accra100.5FM on Friday August 4, Mr Ampaw who is also a Road Safety Ambassador said: "We will travel all out throughout the country to explain the benefit of this programme to Ghanaians.

"We want those opposing the programme to take their time and read the contract or the L.I. to find out the benefits we as a country will derive from it rather than throwing dust into the eyes of Ghanaians.

"We will appeal to Nana Addo not to bow to any political pressure to cancel the programme, he shouldn't."