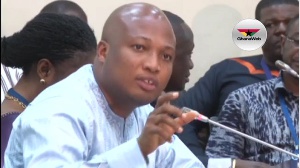 The Member of Parliament for North Tongu, Samuel Okudzeto Ablakwa has weighed in on President Akufo-Addo's handling of the Delta Force saga, insisting that the President must be a strong and decisive leader to confront the lawlessness being perpetrated by the party's security arm.
He said Mr. Akufo-Addo ought to show strong leadership and take action to disband the dreaded vigilante group, Delta Force and other private security groups engaged by the ruling NPP.

He criticized the President as lacking the political will to confront the complexities of security issues emerging from the NPP.

"Our concern as a party is that we are not seeing a concerted effort and real action in taming the vigilante groups." Okudzeto told host Fiifi Banson on Anopa Kasapa on Kasapa 102.5 FM.

President Akufo-Addo made a lot of promises during his Presidential campaign, and Ghanaians give him credit for following through a number of those promises in his first 100 days in office after taking over the reins of power in January 7.

However, notwithstanding his regard for civility and the Rule of law, the President has had a terrible moment dealing with security issues surging, following the mayhem caused by an affiliate NPP vigilante group-Delta Force.
Mr. Akufo-Addo has seized several opportunities to condemn the party's security arm-Invisible Forces/Delta Force vis a vis the troubles being caused around the country, but there is no end in sight of the mayhem being perpetrated by the group.

Commenting on the fallout from the atrocities caused by the NPP's Delta Force on Kasapa FM, the North Tongu legislator said: "It is not condemnation and sermonizing that will help curb the rampage by the vigilante groups."

He said its problematic where the President is joining everybody else to be condemning, and then right after the condemnation there is another attack, adding, "What we need is a different action where the President should be seen taking control of the party.

He said efforts to control the vigilante groups will be a mirage, if he doesn't take clear actions to confront the problems head on.