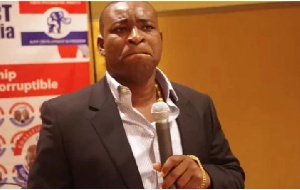 In the last 18 months, the Akufo-Addo led administration has put in place an efficient machinery that has transformed the fundamentals of Ghana's economy, the Ashanti Regional chairman of the New Patriotic Party, Mr. Bernard Antwi-Boasiako, has said.
The above statement by the NPP scribe was a direct response to people questioning President Nana Addo Dankwa Akufo-Addo ability to change Ghana in 18 months as promised before the 2016 general elections.

Controversial musician Kwame A Plus has lead the charge in firing President Akufo-Addo, wondering if he lied when he promised to change Ghana in 18 months.

However Mr. Bernard Antwi-Boasiako popularly known as Chairman Wontumi, has noted that within the first 18 months period of President Akufo-Addo, he has worked and improved Ghana than the granted tenure former president Mahama spent as head of state.

"Without free education, the future of children of school going age in Ghana would be at risk; but we have a president in Nana Addo who within 18 months, has introduced free SHS to make the future of our children brighter again. John Mahama couldn't do this when he was president".


He continued that within President Akufo-Addo's short stay in government, he has been able to make it possible for about 8,000 teachers to be recruited to the teach the increasing number of beneficiaries of the New Patriotic Party (NPP) government's flagship free Senior High School (SHS) programme in the country

Aside this, Chairman Wontumi added that the 'Planting for Food and Jobs' programme of the NPP administration has created more jobs for Ghanaians.

According to him, maize and rice production have increased significantly in the country since President Akufo-Addo assumed office, adding that the railway system is also experiencing massive improvement.

Within this same 18 months, Chairman Wontumi observed that the NPP government has introduced the National Builders Corps (NaBCO) programme to solve unemployment quagmire and that the peace-keeping allowance had been increased from US$3 to US$3.5.

The strength of the National Health Insurance Scheme (NHIS), according to Chairman Wontumi, has also been revived under the Akufo-Addo led government within 18 months. The scheme, he added was being strangled by debt under former president Mahama.
Chairman Wontumi noted that "of the GH¢1.2 billion debt we inherited, the equivalent of $300 million, we have paid, in the last 15 months, GH¢1 billion, the equivalent of $250 million."

On electricity tarrif, Chairman Wontumi noted that "the President of the Republic, Nana Addo Dankwa Akufo-Addo, announced in January this year, the non-residential tariff rate is being reduced by an average of 14%. For barbers, it is being reduced by 18%; for hairdressers and beauticians, 15.7%, and for tailors, 9.8%."

He ended by noting that unlike former president Mahama, President Akufo-Addo respects Ghanaians and the works he has started within his short stay in power proves that he would do whatever it takes to make here an enjoyable home.