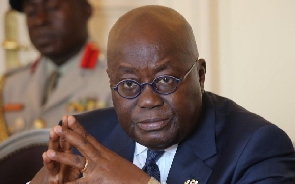 The Cabinet of President Akufo-Addo rejected the proposed guidelines on Comprehensive Sexuality Education (CSE) when it came up for consideration, Kasapafmonline.com has learnt.
The Minister of Education Dr. Matthew Opoku Prempeh who made the confirmation at the National Teachers Awards Ceremony in Kumasi said the country has no plans of implementing any policy that frowns on the culture and values of Ghanaians.

"It is true that there are documents to show that under the watch of ex-President John Mahama comprehensive sexual education was made part of the revised curriculum that was started in 2015. It is a fact that there are manuals for teaching comprehensive sexual education started in 2015."

"In this country, there's a policy approval process that resides in his Excellency the President of the Republic of Ghana. It is a fact that when we came up with the guidelines of the new comprehensive sexual education which has been in our classrooms for a very long time, His Excellency's Cabinet did not agree with the comprehensive sexual education. We in the Ministry directed to make sure that according to Article 39 of the Constitution this sits within the cultural norms of the country. As we speak we haven't approved any guidelines for comprehensive sexual education in Ghana our Motherland," Dr. Opoku Prempeh added.

The introduction of the Comprehensive Sexuality Education (CSE) has been met with massive public uproar against the sex education initiation with some Ghanaians calling on the education ministry to withdraw it.

There are fears that the introduction of the CSE will indoctrinate children to accept homosexuality and other awkward sexual behaviours.
The government has stated that the policy has been suspended but the GPCC and other critics alike have insisted suspending the policy alone is not enough and must be completely withdrawn.

The Ghana Pentecostal and Charismatic Council says Parliament as the representatives of the people should commence the relevant Parliamentary processes to review aspects of the 2019 budget statement that committed state resources to fund the controversial CSE by ensuring that it is withdrawn and that no funds are expended on this policy.

"While commending government on its latest decision to suspend the implementation of the CSE policy next academic year, we as a Council is however not persuaded by a mere suspension as evidence abound of existing government commitments to some international obligations on CSE, some of which have even been captured in the 2019 Budget Statement as presented to Parliament by the Minister of Finance.

"We reject absolutely the inclusion of Comprehensive Sexuality Education in any form and in any name in our school curriculum now and in the future as we see the policy as a long term subtle agenda to target our young population with a liberal mindset to accepting and tolerating LGBTQ as a normal societal behaviour in the very near future."


But Mr Foh-Amoaning hinted on Kasapa Fm that especially in the health sector: "We are aware PPAG is producing 400-page manual to these guidelines. So I'm not surprised that the US Ambassador has said that the Ghana Government should stop the hypocrisy because there is an agreement to the agenda long ago."

Mr Foh-Amoaning, who is also the Executive Secretary and the Spokesperson for the National Coalition for Proper Human Sexual Rights and Family Values, maintained that there is a national movement against the LGBT agenda being manifested in the controversial CSE programme, however they're ready to drag government agencies allowing the 'satanic orientation' to fester in the country.

"We are sending a note of caution; very soon our Lawyers will write to them and I know if we talk to the MoH, Ministry of Local Government and Rural Development and MoE they will stop it because that is not government policy. We hope they'll do it, if they don't do it we will meet them in court. We'll make sure that there is a firm decision by the High court and supreme court on this issue. We are carrying the battle to them."