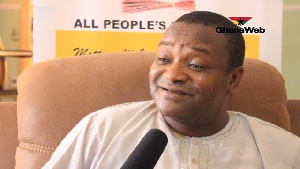 President Nana Akufo-Addo's plagiarism of certain quotes in his inaugural speech was no big deal, founder of the All People's Congress (APC), Hassan Ayariga, has said.
According to him, whatever knowledge is acquired on earth was written by somebody, and, therefore, saw nothing wrong with borrowing another person's words verbatim to drive home a point.

Mr Ayariga, who was a keen critic of Mr Akufo-Addo ahead of the 2016 elections and even once described him as too old to become President, urged Ghanaians to see the wisdom in the part of the president's speech in which he advised them to be citizens and not spectators.

Speaking on the Super Morning Show on Accra-based Joy FM on Friday, 21 April, Mr Ayariga said: "When President Nana Akufo-Addo said don't be spectators be citizens, for me it's one thing that I liked. All he was telling us was to be members in helping to build the nation, we shouldn't just sit down and even if he is going astray we shouldn't say anything. Whatever he is going to do, we shouldn't be spectators but citizens, if he is going wrong we should redirect him…some of us in the APC we will say it, we will criticise him when it's due and appreciate him when he's done good for us."
"For me, I think that in life what you learn, it is somebody's knowledge. What you read from the book is not coming from God. Whatever you read from books, it is somebody who wrote it, so, if the president should pick words directly from it, I don't think it should be a problem for us to talk about it," he said.

Mr Akufo-Addo was heavily criticised for quoting former American Presidents George Bush and Bill Clinton in his inaugural speech on Saturday January 7 without acknowledging them.

The Minority in parliament called on him to withdraw the speech and apologise for subjecting Ghana to international ridicule.