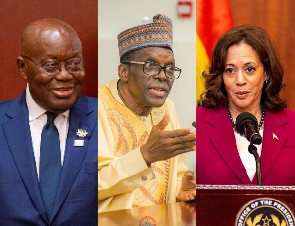 Speaker of Parliament, Alban Bagbin, has berated the Vice President of the United States of America, Kamala Harris, and the President of Ghana, Nana Addo Dankwa Akufo-Addo, over their comments on the Proper Human Sexual Rights and Ghanaian Family Values Bill, 2021 (Anti-LGBTQI bill) being considered by the House.
Both President Nana Addo Dankwa Akufo-Addo and the Vice President of the United States of America, Kamala Harris, confronted the issue of the criminalisation of LGBTQ+ activities in Ghana.

Responding to the question at Jubilee House, in Accra, on Monday, March 27, Kamala Harris said that for her, being LGBTQ is a human right.

She added that every person has the right to live as s/he wants.

"I feel very strongly about the importance of supporting the freedom and supporting and fighting for equality among all people and that all people be treated equally.
"I will also say that this is an issue that we consider and I consider to be a human rights issue and that will not change," she said.

On his part, President Akufo-Addo refuted the suggestion that Ghana already had an anti-LGBT law.

He said that the anti-LGBT bill, which was championed by "only a hand full of MPs", is currently being considered by Parliament.

Akufo-Addo added that even if the bill is passed, it will still have to be ratified by him.
Reacting to this, at a meeting with some religious leaders, the Speaker of Parliament posited that the US Vice President's comment was an imposition.

"What is democracy? That someone should have to dictate to me what is good and what is bad? Unheard of, because we have decided to devalue ourselves and go begging? Come on, we have more than enough. God has created more than enough for every person... The Bill will be passed," he said.

Touching on Akufo Addo's comment, he said that there is no way the president can intervene in the processes of parliament.

"There's no way he can intervene. That answer he gave, that it is now before parliament and when it gets to a state that he has to, he will come in. Hey, please.
"This is legislation, this is not execution. Wait until we pass it, and we will direct you to execute it, that is where you come in. That is why we are the representatives of the people. In terms of the law which is part of the policy, we will finalise it, then the executive has the authority to implement it. Let's get this clear," he explained.

Watch Bagbin's remarks in the videos below:

Speaker Bagbin speaks on LGBTQI+ Bill.

2/2 pic.twitter.com/YuMg2i1nyD

— General Marcus! (@marcusadampah) March 28, 2023
Watch the latest edition of People & Places below:





IB/OGB