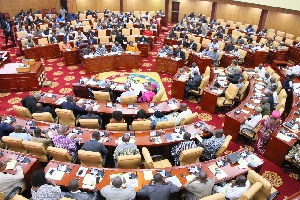 All 275 members of Ghana's Parliament have appended their signature to the Multilateral Mining Integrated Project (MMIP), a quasi-militant campaign against illegal small scale mining.
The campaign, which calls on the MPs to "save our lands and water bodies", gained a massive support on Friday, April 7 when members thronged to append their signatures to it.

Recent media campaign against illegal mining, popularly referred to as galamsey, has been heightened with calls on security agencies to descend heavily on culprits.

Pressure group OccupyGhana has already declared the month of April #RedMonth and rolled out a campaign to go red each Friday of the month.
The executive arm of government has been asked to also ensure that laws guiding mining are adhered to. With the heavily patronized campaign on Friday, the enactors of the law have lent their support for the nationwide campaign.

The MPs endorsed the campaign as part of their final activities before going on recess.