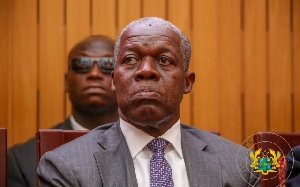 The Independent Presidential Candidate for the 2016 election, Jacob Osei Yeboah has disclosed that the ghost of the late former Vice President, Kwasi Amissah-Arthur has in recent times been revealing himself to him and questioning him about Vice President Mahamudu Bawumia.
According to him, the ghost has been asking him repeatedly if Dr. Bawumia has eventually been able to answer his own 170 economic questions.

The late Ex-Vice president Kwesi Amissah-Arthur in 2017 asked his successor Dr Mahamudu Bawumia, to concede the country's economy is struggling, despite efforts to revamp it.

He said the economy under the governing New Patriotic Party (NPP) has not been any better than it was under the past government.

Mr Amissah-Arthur then demanded that the current Vice President answers some 170 economic "questions" he posed to him during the 2016 election campaign.

Dr Bawumia tossed 170 "questions" to the then Vice-president over his government's management of the economy, which he said was built on "straws."

The questions ranged from revenues to expenditure, but Mr. Amissah-Arthur after indicating his preparedness to respond was unable to directly address the so-called questions.
The "170 questions" appeared to be more of statements and claims and therefore did not need a response, the then Vice-President said.

But nearly one year in opposition, the former Vice President asked Dr Bawumia to respond to his own questions since he is a "great economist."

"Economic questions don't change over time [so] he can answer them," Mr Amissah Arthur said.

In an interview with sit-in host Akwasi Nsiah on Anopa Kasapa on Kasapa FM, Jacob Osei Yeboah told said late Veep Amissah-Arthur's told him it will not lay quietly until Veep Bawumia is able to answer the 170 questions.

"Everyday Veep Amissah Arthur's ghost appears to me in my dream, he asks me to tell Bawumia to answer the 170 economic questions he posed to him in 2016 now that he [Bawumia] is in power, otherwise he will not rest peacefully."

Jacob Osei Yeboah accused the Akufo Addo government of mismanaging the economy since it assumed power in 2017 increasing Ghana's debt level from 80billion to 200billion in just two years.