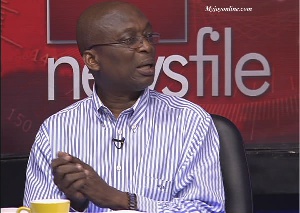 Editor-in-Chief of the New Crusading Guide Newspaper, Kwaku Baako Jnr has hinted that renowed undercover Journalist Anas Aremeyaw Anas, will soon expose influential persons including chiefs, politicians and persons in the security services who are neck deep in galamsey (illegal mining) in the country.
According to him, the sort of extensive investigative work done by his protege (Anas) is so 'explosive' and will blow the minds of Ghanaians after seeing the extent to which, big men in the country have been unfair to Ghana by supervising the destruction of the environment for that selfish interest.

He said the magnitude of the exposé on the Judges bribery scandal, comes no where near what has been unearthed in the galamsey investigations.

The issue of galamsey has been an age old problem with successive governments finding it very difficult to fight. The Lands and Forestry Minister, John Peter Amewu recently disclosed that government will start using drones to augment its efforts to effectively combat illegal mining to ensure the protection of the country's water bodies.

Galamsey has destroyed the country's water bodies, resulting in the drying up of these water bodies.
This has resulted in the pollution of the water the Ghana Water Company Limited treats and supplies to the populace.

But Kwaku Baako Jnr, believes the naming, shaming and possible prosecution of these big men who are behind the practice of galamsey will go a long way in fighting the illegal activity.

"Members of the NDC and NPP are neck deep in this mess, they manipulate the system and have their way in the galamsey business, but pretend they are fighting the menace. I've stopped short of mentioning names because the time we'll name and shame people is almost up and it will be very explosive. I don't think we care who will be mentioned or fingered, because really their bad actions are too much…what sort of money at all are they looking for. I mean people in top position and those at the bottom are all part, they are destroying the environment and they don't care. If you arrest them (especially the Chinese) today, tomorrow they are released because of their political connections.

He added: "What is annoying is that right after they are released they go back to the galamsey site to continue with the illegal deeds. There is a certain Chinese woman based in Kumasi who is all over the place showing impunity, she goes about snapping pictures of some big men in Ghana and circulating them on social media to show how politically connected she is. She's very insolent because some party gurus in the NDC were dealing with her while in power and now some NPP party gurus are also dealing with her, so for her, head or tail she's a winner. I just don't understand how come she's so powerful. But sooner than latter all of this will stop. We should stop all these things…that's all I'll say, very soon Ghanaians will realize that the even Anas' exposé on the Judges is chicken feed."