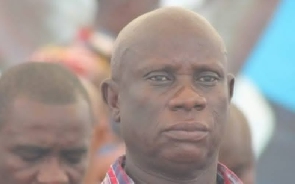 Former deputy General Secretary of the governing New Patriotic Party (NPP), Nana Obiri Boahen has stated that if Ghana is a serious nation, national security will write to the court and request a certified copy of the court's ruling on Anas' defamation suit against Kennedy Agyapong for further investigations.
According to Nana Obiri Boahen, Kennedy Agyapong's exposé documentary, "Who Watches the Watchman" showed video footage of Anas Aremeyaw Anas accepting bribes from certain individuals, which is a serious criminal offence that requires investigations.

Speaking in an interview with Wontumi TV on March 18, 2023, he posited: "Anas negotiates, give me five thousand, give me ten thousand. One of the State Attorneys, all of us watched it, he was negotiating, I mean look, we all saw it, 'Who Watches the Watchman'?

"Ghana's CID, National Security, after watching it what did they do? After showing it, nobody said anything about it, either the head of police, military, minister, deputy, Office of the President or Jubilee House, nobody said anything.

"In any serious society, by now National Security and police CID would have written to the court to request a certified true copy. Yes, because they've punched certain holes into Anas' investigations," he said.

He continued by saying that the court ruled in favour of Kennedy Agyapong because Kennedy had demonstrated his claim by showing the relevant footage.
"So, where lies the idea of defamation, you said he has said something about you. Whatever he said is not true so he has tarnished your image, but what he said, he has proved it to you in his video, so how come this is defamation…so in law, Anas's case had no grounds."

Obiri Boahen's response follows March 15, 2023, High Court ruling that dismissed a GH¢25 million defamation lawsuit brought against Kennedy Agyapong by investigative journalist Anas Aremeyaw Anas.

According to the High Court, Anas did not prove Kennedy Agyapong defamed him by airing the documentary, 'Who watches the watchman' but rather, the documentary exposed shady deals that Anas and his associates were involved in.

Watch the latest episode of The Lowdown below:


Meanwhile, catch up on the concluding part of Francis Addai-Nimoh's interview on GhanaWeb TV below:







AM/SARA