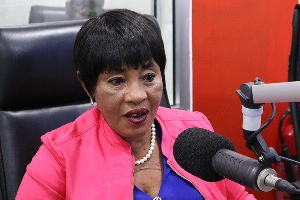 Madam Anita De Sosoo has expressed disappointment in the NDC regional chairmen for endorsing John Mahama.
She stated that this will have the tendency of causing disunity in the party.

De Sosoo revealed that the regional that, the primaries is ahead and those regional chairmen will have to go and fight to retain their position so she does not see the reason why they have gone ahead to endorse former president Mahama.

She then revealed that, the National Democratic Congress has really learned a lesson from the biometric registration.
'' Those who claim they are crossing carpet from the New Patriotic Party to the National Democratic Congress should just stay there we will make sure we access them before we formally accept them into the party this time around even in the church you do not just come from member to usher you are accessed or go through some training .''

She ceased the opportunity to advice her fellow National Democratic Congress colleagues to be vigilant in that regard.