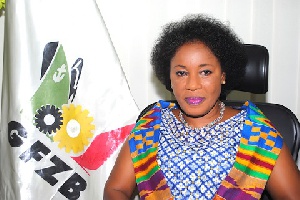 A former First National Vice-chairperson of the National Democratic Congress (NDC), Madam Anita DeSoso has announced her retirement from active politics after her defeat in the party's national executive elections.
Her failure has been described as a humiliation as she ended up with 300 votes by the delegates in her bid to be the NDC's national organiser for the next four years.

DeSoso joins former New Patritotic Party (NPP) National Women's Organiser and former Gender Minister, Otiko Afisah Djaba as two high profile female firebrands who have recently stepped out of active politics.

In her case, Djaba turned down an executive reshuffling that would have seen her be Ghana's ambassador to Italy.

Mynewsgh.com reported earlier on Wednesday that DeSoso spoke on Accra FM's Ghana Yensom programme hosted by Kwabena Prah Jnr and made her intentions known.
She is quoted as saying "I thank all the people who voted for me, although it didn't go as we expected.

"I have done politics for 39 good years and I have never been on leave. I am taking a break, I am not quitting the party, I wish everybody in the party well."

She however that she has not resigned or quit the NDC and will continue to support the party and hope they win national elections.

DeSoso earned fame as an unapologetic executive of the NDC who constantly defended her party and launched several harsh on-air tirades against the NPP.