Annoh Dompreh called out over claims he paid for venue of Ken Agyapong's meeting in his constituency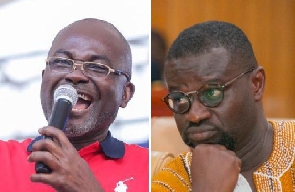 The Majority Chief Whip and Member of Parliament (MP) for Nsawam-Adoagyiri, Frank Annoh-Dompreh, has been called out over his claim that he paid for the venue of a meeting, New Patriotic Party (NPP) faithful, Kennedy Agyapong had with members of the party in his constituency.
According to Francis Ennum Boateng, a member of Ken Agyapong's campaign team in the Eastern Region, the claim by Annoh Dompreh is a lie.

Speaking in a Facebook interview with a digital creator, Marie Afua Amoakwa-Badu, on Friday, Ennum Boateng said that the campaign team of Ken paid for the venue.

"I'm the coordinator in charge of communication (for Ken) in the Eastern Region. We have a coordinator for administration, who is Mr William Asiedu, he is the one who together with one of our reps at Nsawam went to St Martians to hire a venue.

"At the time Annoh Dompreh made this claim, Asiedu had travelled to the Ashanti Region and he said he will produce the receipt when he comes back t Accra. So we said that we will show the receipt we have to Annoh Dompreh when we have it. And we challenged him to show the receipt he was given when he paid for the venue.

"We threw this challenge to him, three days ago but he did not respond. Now, we have our receipt which has been circulated… if you look at the receipt, you can see that it was us who paid for the venue," he said in Twi.
The said receipt was written in the name of "Honourable Kennedy Agyapong Nsawam-Adoagyiri", The amount paid was GH¢2000 and the purpose of the payment was; "rent for use of assemble hall for a day".

What Annoh Dompreh said:

The Majority Chief Whip and Member of Parliament (MP) for Nsawam-Adoagyiri said that he has no issues with New Patriotic Party (NPP) presidential hopeful, Kennedy Agyapong.

Annoh-Dompreh said that he has great respect for Kennedy Agyapong, the MP for Assin Central, because of his contribution to the NPP and his role in parliament.

"He (Ken Agyapong) is one of the senior members of this house that I respect. And on many occasions that we have had tensed moments between the two sides he intervenes. So, I have a great deal of respect for him.
"When he visited my constituency, I went, I paid for the venue, I hosted him. I spoke very highly of him," he said while addressing the press at parliament on Tuesday, June 6, 2023.

The Nsawam-Adoagyiri legislator refuted assertions that he said Ken Agyapong is not fit to be the president of Ghana.

He said that it was Ken Agyapong who raised the issue of not being fit to be president when he visited his constituency.

"Me, 'I'm sitting my somewhere'… only for me to hear that I'm now the punching bag being punched by him because he has heard that somebody said I have said that he is not fit to be president," he said.

Watch the interview below:


Also, watch the latest episode of GhanaWeb Election Desk on GhanaWeb TV below:





Meanwhile, watch the first episode of Everyday People on GhanaWeb TV below:


IB/OGB