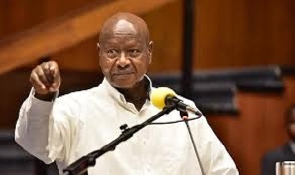 Yoweri Kaguta Museveni, the Ugandan president has admitted that international partners and donors could cut aid to the East African nation because of a recently passed anti-LGBTQ law.
The 78-year-old is, however, unperturbed by that prospect stressing that the country will rationalize its affairs to deal with the situation if it come up.

"If they cut aid, we shall sit down and discipline our expenditure. We arrange our budget, if they interfere with our trade, we shall trade with others," he told lawmakers at an event on June 1, days after assenting to the legislation.

"That is what I was telling you, the other time when I met you at Kololo (a place for national gatherings), I said you people should be ready for war and you cannot fight a war when you are a pleasure seeker, if you like a soft life, war is not for soft life," he stressed.

In previous comments made about the law, criticized by the United States, United Nations and others; Museveni cautioned that the law had been passed and that there will be no going back on it in apparent response to strong reservation from some international partners.

President Museveni signs anti-LGBTQ law
Museveni signed the much talked-about anti-homosexuality bill into law on May 29.

The new legislation limits the offence of homosexuality to gay sexual acts, carrying a maximum penalty of life imprisonment.

Aggravated offences, such as sexual abuse against minors or disabled individuals, or infecting a victim with a lifelong illness, can result in the death penalty, the BBC Africa LIVE page reported.

The law also mandates reporting of any homosexual abuse against children or vulnerable individuals.

International partners and organizations expressed deep concern over the law's impact on health education and outreach programs for AIDS and the safety and well-being of LGBTQ individuals.
WATCH: "If they cut aid, we shall sit down and discipline our expenditure"- President Museveni reacts to aid cut threats by donors following the signing of Anti-Homosexuality law https://t.co/7jHG0YbcJ0.#MonitorUpdates
???? @ntvuganda pic.twitter.com/Srd7LGZMhl

— Daily Monitor (@DailyMonitor) June 1, 2023
Meanwhile, watch a snippet of GhanaWeb TV's latest program that focuses mainly on Everyday People below:
You can also watch the latest episode of People & Places on GhanaWeb TV:





Meanwhile, watch the latest episode of SayItLoud on GhanaWeb TV below:




SARA