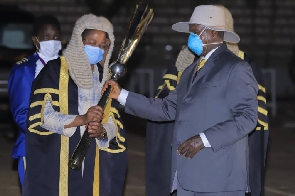 Anita Among, speaker of the Ugandan parliament has celebrated the assent of an anti-homosexuality bill into law by president Yoweri Kaguta Museveni.
According to her, lawmakers in promulgating the Bill were projecting values of the Ugandan people and defending their Constitution.

"We have legislated to protect the sanctity of family as per Article 31 of the Constitution of Uganda. We have stood strong to defend our culture and aspirations of our people as per objectives 19 & 24 of national objectives and directive principles of state policy.

"I thank His Excellency, the president, for his steadfast action in the interest of Uganda. With a lot of humility," Among said in comments made after Museveni signed the bill into law on May 29, 2023.

"We shall always stand for and promote the interest of the people of Uganda. I now encourage the duty bearers under the law to execute the mandate bestowed upon them in the Anti-Homosexuality Act.
"The people of Uganda have spoken, and it is your duty to now enforce the law in a fair, steadfast, and firm manner," she stressed.

Meanwhile, it has emerged that Among has become the first victim of a US visa revocation after a lawmaker brandished a purported email from the embassy communicating same.

President Museveni signs anti-LGBTQ law

President Yoweri Museveni signed the much talked-about anti-homosexuality bill into law on May 29.
The new legislation limits the offence of homosexuality to gay sexual acts, carrying a maximum penalty of life imprisonment.

Aggravated offences, such as sexual abuse against minors or disabled individuals, or infecting a victim with a lifelong illness, can result in the death penalty, the BBC Africa LIVE page reported.

The law also mandates reporting of any homosexual abuse against children or vulnerable individuals.

International partners and organizations expressed deep concern over the law's impact on health education and outreach programs for AIDS and the safety and well-being of LGBTQ individuals.
You can also watch the latest episode of People & Places on GhanaWeb TV:





Meanwhile, watch the latest episode of SayItLoud on GhanaWeb TV below:


SARA