Anyidoho slams Akoto over the 'I want to be president because I want to be NPP flagbearer' statement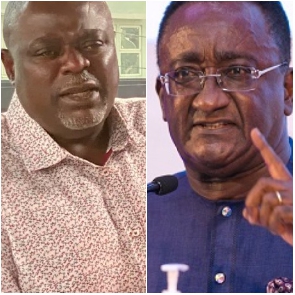 Samuel Koku Anyidoho, a former general secretary of the National Democratic Congress (NDC), has taken a swipe at the immediate past Minister for Food and Agriculture, Dr Owusu Afriyie Akoto, over comments he made regarding his presidential ambition.
Dr Afriyie Akoto, in an interview on JoyNews, on Tuesday, said that he wants to become president of Ghana because he wants to lead the New Patriotic Party (NPP).

"I want to be president because I want to be flagbearer of the NPP which is what is driving me; to give an opportunity for me to make a contribution to the New Patriotic Party as you saw in 2020," he said.

Reacting to this in a tweet shared, on Wednesday, March 15, 2023, Koku Anyidoho could not believe what the NPP presidential hopeful said.

Koku Anyidoho, who is also the Chief Executive Officer of the Atta-Mills Institute, said that Dr Afriyie Akoto has gotten his aims twisted.

"You want to be President because you want to be Flagbearer of the New Patriotic Party? Please can someone explain to me what he is trying to communicate? A case of, reverse osmosis?" parts of the tweet read.

He also indicated that the former agriculture minister failed in the implementation of the government's flagship Planting for Food and Jobs programme.
"Is he eating the food before he plants? Then what happens to the jobs?"

View Koku Anyidoho's tweet plus a video of Dr Akoto's comments below:


You want to be President because you want to be Flagbearer of the New Patriotic Party? Please can someone explain to me what he is trying to communicate? A case of, reverse osmosis? Is he eating the food before he plants? Then what happens to the jobs????????????????? pic.twitter.com/VrcqAMGWa0

— Samuel Koku Anyidoho???????? (@KokuAnyidoho) March 15, 2023
Meanwhile, catch up on the concluding part of Francis Addai-Nimoh's interview on GhanaWeb TV below:
IB/OGB