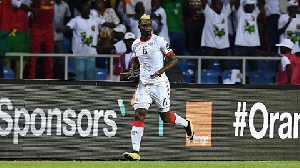 Former Bechem United striker Ahmed Toure has revealed that the reported move by Asante Kotoko to sign Burkina Faso striker Aristide Bance is untrue.
The former Kotoko striker adds that Bance was completely at sea when he asked him about the move after he (Toure) joined Bance at Asec.

Toure claims the Burkina Faso star forward Aristide Bance has denied the authenticity of all reports linking him to Asante Kotoko.
According to Ahmed Toure, Bance told him that the reports are false and that his focus is to finalize issues with Al Masry and have his contract terminated so he can rejoin Asec Memosas.

"I asked him (Bance) three days ago and even now (Thursday) but he said it is not true he is negotiating with Kotoko, and that he has not even thought of that," Toure told Fox FM in Kumasi