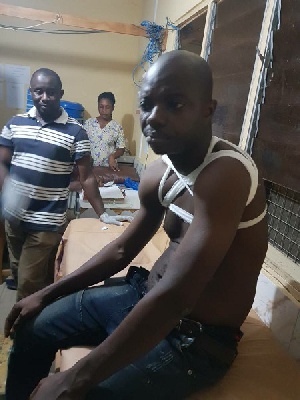 The Executive Committee of the ruling New Patriotic Party (NPP) in the Brong Ahafo Region has called on the police to arrest and prosecute people who attacked the regional Youth Organizer Kwame Baffoe aka Abronya DC after a crunch meeting.
Abronye, who was hospitalized, was beaten to pulp by unidentified assailants at Atebubu in the region on Saturday.

The crunch meeting was attended by some NPP Members of Parliament (MPs) from the region, constituency chairmen and members of the regional secretariat.

Conspicuously missing at the meeting was the Regional Minister, Kwaku Asomah-Cheremeh, who has had many public spats with Abronye in recent times, although his deputy, Evans Bobie was present.

A section of the public is claiming the Regional Minister masterminded the attack on Abronye, who publicly called on the President to relieve the minister of his position over corruption.

Addressing the media after the closed door meeting, the Acting Regional Chairman, Thomas Adu Appiah, condemned what he called "the barbaric attack on the hardworking youth leader whom he said was on a peaceful mission at Atebubu District to outline his plans for the party in respect of the impending regional and national executive elections.
He called on the police, both in the region and at the district, to immediately arrest and prosecute all those involved in the attack on Abronye.

"We call for a thorough investigation of the matter to ensure that both the attackers and their possible motivators are made to face the full rigours of the law to help in establishing and sustaining peaceful political environment in the region and the nation at large."

"We would like to draw the attention of the regional police command and the Atebubu District Command of the Ghana Police Service to act immediately on the formal complaint lay before them by Kwame Baffoe," he said, adding "we assure all sympathizers of Abronye and party supporters that our youth leader is responding to treatment. We shall not rest until the perpetrators are brought to book."

However, the police in the region said Abronye has refused to cooperate with them in the investigations.

The Regional Police Commander, DCOP Kwame Tachie-Poku, who spoke to DAILY GUIDE in a telephone interview, said Abronye has not made any formal complaint to the police.
He said as part of efforts to elicit information from Abronye to assist in the investigations, he (commander), together with some of his divisional commanders and police investigators, visited Abronye at the hospital on Sunday to interview him, but Abronye refused to cooperate and locked himself up in the washroom at the hospital.

"We waited for several hours, but Abronye did not come out so I have to report his conduct to the Inspector General of Police (IGP). But in any case, once the incident happened in the DCE's residence, we have sent some men there to gather information from those who were present so that we can carry it out from there," he declared.