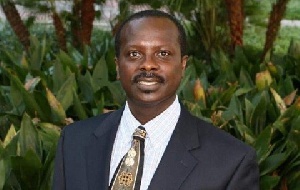 Public intellectual Professor Stephen Kwaku Asare has called for the arrest of Members of Parliament (MPs) who benefitted from Ghana Education Trust Fund (GETFund) Scholarships, describing their being on the scholarship as "raiding" the fund.
A performance audit report of the Scholarships granted by GETFund revealed that some MPs were granted scholarships to undertake studies abroad.

Notable among the MPs who benefitted illicitly from the fund include Education Minister Matthew Opoku Prempeh, Sarah Adwoa Safo, Deputy Majority Minister, Kennedy Nyarko, Deputy Minister of Agriculture.

There has been public outcry following the revelations but Mr Opoku Prempeh and Ms Adwoa Safo have explained that their Scholarships were well-deserved while Mr Nyarko has denied ever being a beneficiary of any GETFund Scholarship.
For Professor Asare they deserve to be arrested for the illegality, reminding them of the arrest of two finance officers from the Sefwi Akontombra District Assembly ordered by the Chairman of the Public Accounts Committee.