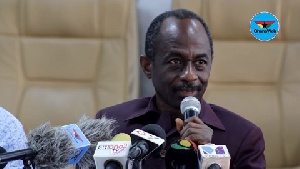 National Treasurer for the opposition National Democratic Congress (NDC), Alhaji Ahmed Abdallah, has described the party's General Secretary, Asiedu Nketiah, as an ''autocratic leader'' who does not accept views from others.
He also described him as an arrogant person who will soon destroy the party if he is re-elected as the party's general secretary.

Speaking to Accra based Asempa Fm, the party's treasurer said, the chief scribe is a man who imposes his opinions and ideas on party leadership without allowing others to voice out theirs.

He is also claiming that, Mr Nketiah is a politician who introduced politics of insults in the NDC, an attitude younger party supporters have learnt. The Chairman of the party, Mr Kofi Portuphy he revealed declined to seek re-election because he could not control the party due to the autocratic leadership of the chief scribe.
''Asiedu Nketiah never accepted ideas or opinions by Kofi Portuphy. He never even allowed him to voice his opinions out. He is autocratic and arrogant.''

Alhaji Ahmed Abdallah added that, Mr Kofi Adams, the National Organizer was also not treated with respect just like Kofi Portuphy. The decision of his 'junior brother' to seek re-election he stressed should be rejected by the delegates of the NDC because his victory will harm the party and dwindle its fortunes.

''Asiedu Nketiah is a dictator, he does not have a good character, he does not listen to others, he insults and brought insults into the NDC. It was through him that elders of the party, have refused to talk. If you are a general secretary and lose in your constituency, then why should you call yourself a general secretary?'