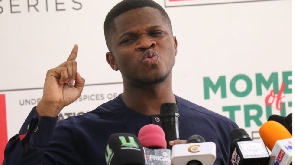 The National Communication Officer of the National Democratic Congress (NDC), Sammy Gyamfi, has refuted assertions that recent allegations of wrongdoing by the EC concerning the Assin North parliamentary by-election made by his party are due to fears of losing the seat.
According to him, the NDC is only pointing out laws that are being breached by the Electoral Commission of Ghana (EC) and nothing more.

Speaking in a 3FM interview monitored by GhanaWeb on Wednesday, Gyamfi added that there is no way the candidate for the NDC, James Gyakye Quayson, will lose the by-election because he is miles ahead of all the other contenders.

"Nobody in the NPP is a match for Gyakye Quayson, none of them. Gyakye Quayson's vote in 2020 is the highest in Assin North since the constituency was carved out in 2012.

"He had more than 2000 votes than the NDC presidential candidate, John Mahama. He had more than 1,000 more votes than the NPP presidential candidate, Nana Addo Dankwa Akufo-Addo. He had more than 3500 votes than the NPP (parliamentary) candidate.

"This is a constituency that we had lost by close to 5000 votes in 2016, and he closed the 5000 margin and gave us an extra 3500 margin. So, no one is a match, but the point is, we would not allow any manipulations of the process," he said.
Sammy Gyami added that the issues the NDC is raising are from the laws of the EC, and if the EC thinks its laws are unconstitutional, they should amend them.

The EC set Tuesday, June 27, 2023, for the by-election in Assin North Constituency after parliament declared the seat vacant.

James Gyakye Quayson, who was ousted from parliament after the Supreme Court ruled that his win in the 2020 elections was null and void, would be representing the NDC, while Charles Opoku would be the candidate for the ruling New Patriotic Party (NPP).

Also, watch the latest episode of GhanaWeb Election Desk on GhanaWeb TV below:




Meanwhile, watch the first episode of Everyday People on GhanaWeb TV below:






IB/SEA