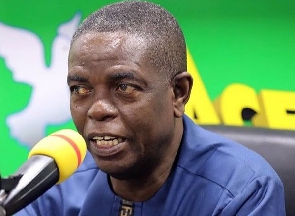 Kwasi Pratt, the managing editor for the Insight newspaper, has reacted to the Auditor-General's report, which stated that out of the over US$2.5 billion (21 billion) of monies mobilized for the fight against COVID-19, only 25% (5.5 billion) was used on health.
The A-G's report added that the balance was spent on government programmes such as Free SHS and LEAP, among others.

The report also revealed US$80m worth of vaccines paid for by the government of Ghana has not been delivered.

The A-G has captured in its report that the government paid over US$120 million to the United Nations Children's Fund (UNICEF) and African Vaccine Acquisition Trust (AVAT) for vaccines, but only US$38 million worth was delivered as of the time of the pandemic.

The Auditor-General has, therefore, recommended that the Chief Director of the Health Ministry be made to renegotiate and recover the outstanding balance.

This, according to the A-G, must be done immediately to ensure the amount is recovered to the state.
"We noted that the Ministry of Health, on behalf of the government of Ghana, paid an amount of $120,192,379.80 to UNICEF/VAT for the supply of vaccines. However, 5,109,600 doses of vaccines valued at $38,322,000.00 were supplied to the National Cold Room, leaving a difference of US$81,870,379.00 with UNICEF/AVAT."

"We recommend that the Chief Director of the Ministry of Health should renegotiate with UNICEF/VAT to recover the outstanding amount," Auditor-General's report said.

Speaking on Atinka FM's AM Drive with host Kaakyire Ofori Ayim, Kwasi Pratt said misapplication of funds is an offence that is not taken lightly.

"I have worked in both the civil service and the public service. And during my day, the misapplication of funds was not something that was taken lightly. If you take money for water and later channel the funds to buy a mobile phone, it is taken as an offence. "In fact, the laws of Ghana are clear on that: if you present a budget to Parliament and it is approved, you cannot use the funds for anything other than what you stated in the budget," Kwasi Pratt added.