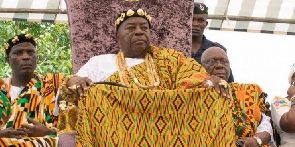 Sun, 24 Sep 2023 Source: GNA
Togbi Sri III, Awoamefia of the Anlo State has assured his people of meeting with President Nana Akufo-Addo to discuss permanent solution to the perennial tidal waves disaster along Volta Region's coast.
"I have seen it all – it's very sad and scary, something must be done, and I can assure you that I'll be meeting the President and other stakeholders on this…we must find a lasting solution to this problem to save lives and properties," Togbi Sri said.

The Awoamefia gave the assurance Friday, when he toured some coastal communities in the Ketu South, Keta and Anloga Districts that were devastated by Wednesday's tidal surge.

Some communities along Volta's coast including Abutiakope, Tegbi and Agorkedzi woke up September 20 to another devastating tidal waves disaster which flooded about 1,000 homes rendering the people homeless with livestock, businesses, canoes, and fishing nets also lost as a result.

Apart from the tidal waves, the Keta Lagoon, which had been overflowing its bank kept submerging communities along it.

Togbi Sri said he lost his sleep after hearing of the disaster and seeing those scary images on Wednesday morning and so, quickly mobilised his wing chiefs to see the severity of the destruction and assured, "we have already started plans to solve this and this tour is just the beginning of those plans."
On the tour with the Awoamefia on the rainy Friday to some affected communities including Horvi, Kedzikope, Abutiakope, Agorkedzi and Fuveme were, Togbi Agbeshie Awusu II, Awadada of Anlo; Togbi Gbordzor III, Paramount Chief of Fugo and Dusifiaga of Anlo, Mr Dan Abodakpi, the Awoamezitor, and Mr Seth Yormewu, District Chief Executive of Anloga district, among others.

Tidal waves destruction has become a perennial disaster along the coast of Volta Region with miles of land lost to the sea.

Wednesday's disaster is believed to have resulted from the ongoing water spillage from Akosombo and Kpong dams making the Volta estuary more turbulent.

The recent happening has led to many calling for steps towards extensive protection of the coastal belt and dredging of the Keta Lagoon as a solution.
Source: GNA