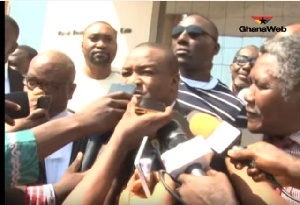 Mr Hassan Ayariga and his lawyers should not "deceive" themselves that Friday's High Court ruling ordering the Electoral Commission to give the APC flag bearer the chance to correct mistakes he made on his nomination forms for which reason he was disqualified from the race, is an automatic scaling of the nomination hurdle, private legal practitioner Frank Davies has said.
"The fact that you have been ordered to go and correct whatever anomalies there are on your forms does not necessarily mean that you have passed the test of the nomination.

"So, if you have been given a chance to go and correct, what comes after the correction? So it's not cast in stone. Nobody should deceive himself or herself …" Mr Davies told Naa Dedei Tettey on 12Live on Class91.3FM on Friday shortly after the court ruling in response to Mr Ayariga's lawyer Maxwell Logan who argued that: "I find no logical reason why any decision in the Supreme Court should affect us…"

The Supreme Court will on Monday, 7 November determine a certiorari application filed by the EC to quash a similar ruling by a High Court in favour another disqualified nominee, Dr Papa Kwesi Nduom, flag bearer of the Progressive People's Party.
Mr Davies said: "The Supreme Court is going to determine the essence of the very rulings that have been given in those courts. That is why it is the highest court of the land. … So if what has happened in the High Court is not in reflection with what the Supreme Court is going to say on Monday, nobody can stand on that ruling. That ruling in law becomes recused. So I think we should all wait for what the Supreme Court will say."

Mr Logan, however, argued that: "Mr Davies' position, in my view, is wrong. When a court makes a pronouncement, and there is a similar matter concerning different parties in a superior court, the decision of the superior court does not automatically affect the judgement of the lower court unless the losing party in the lower court comes by way of an appeal to the lower court and says: set aside the decision because the Supreme Court has decided otherwise.

So there will be no automatic effect on the decision of Justice Charway today unless the EC effects an appeal or a certiorari process in the Supreme Court."