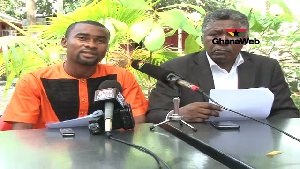 Flagbearer of the All People's Congress Dr. Hassan Ayariga has described as null and void an endorsement of NPP flagbearer Nana Akufo-Addo by the party on Sunday morning.
In a statement released by the Dr. Ayariga, he indicated that the press conference held by the party's general secretary and his running mate backing the NPP flagbearer was propaganda hence urged the members and the public to ignore.

Razak Opoku together with Emmanuel Carl Bartels declared their support for the NPP and its flagbearer ahead of the December polls adding that they would provide Ghanaians with interesting revelations within five days to the elections which will cause the defeat of President Mahama and the NDC.

Below is the statement released by Dr. Hassan Ayariga

Membership of APC (All People's Congress) Nationwide and the general public should ignore circulating propaganda of APC declaring support to the NPP. The Founder and Leader Dr Hassan Ayariga with the National Executive committee and National delegates will officially declare and endorse one among the seven presidential candidates tomorrow 28th November 2016. Until declaration made by Dr. Hassan Ayariga any other news of APC in support of the NPP is a mere propaganda and is null and void.

DR. HASSAN AYARIGA TO ENDORSE A PRESIDENTIAL CANDIDATE ON THE 28TH NOVEMBER 2016
Dr. Hassan Ayariga (Founder & Leader of the All People's Congress) together with the National Delegates Congress of the APC (the highest decision making body of the Party) will endorse 1 of the 7 Presidential Candidates for the 7th December 2016 Presidential Election on the 28th of November 2016 in Accra.

Monday, 28th November 2016 at the Aviation Social Centre, Airport at 10:30

All Delegates from the 275 Constituencies, 10 Regional executives, National Council of Elders, Parliamentary Candidates and the National leadership shall be in full attendance.

For and on behalf of Dr. Hassan Ayariga, the National Executive Committee (NEC) and National Delegates Congress of the All People's Congress.

...Signed...
Dr. Hassan Ayariga

Founder/leader.

APC