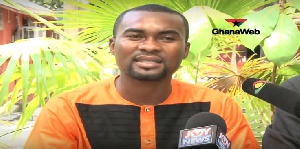 Razak Kojo Opoku has refuted his suspension as General Secretary of the All People's Congress (APC) by the Leader and Founder of the party, Hassan Ayariga.
To him, he is still at post and in charge of the day-to-day administration of the broom family, stressing that per the party's constitution, no single individual can take unilateral decision to suspend or sack any member from the party.

Razak Kojo Opoku and the party's vice presidential candidate, Emmanuel Carl Bartels were suspended from the APC by Hassan Ayariga for endorsing the presidential candidate of the New Patriotic Party (NPP), Nana Addo Dankwa Akufo-Addo.

The suspension of the duo took immediate effect, Sunday, according to a statement issued by Mr. Ayariga.

"Dr Hassan Ayariga and the National Executive Committee  wish to inform  all APC members nationwide  and the general  public  to refrain  from dealing  with these two suspended individuals with matters  concerning the party  till further  notice," the statement in part read.

But Mr. Opoku reacting to the announcement on 3News, Monday, said the action of Mr. Ayariga clearly demonstrates his ignorance about the constitution of the APC.
"Who said that I have been suspended from the party? I thank you for not saying that the National Disciplinary Committee have made recommendations to the NEC for me to be suspended but Hassan Ayariga who thinks that running a political party is like peasant farming. Massa political party is not sole proprietorship where he can suspend people anyhow."

"All that Hassan Ayariga is saying about suspension or dismissal clearly defines how intellectually bankrupt he is. It also defines how ignorant Hassan Ayariga is of the constitution that formed the party," he noted.

He accused Hassan Ayariga of using the name of the APC to take money from the governing National Democratic Congress (NDC) to do their agenda for them.

Kojo Opoku and Bartels, Sunday, endorsed the Nana Addo Dankwa Akufo-Addo claiming that their decision was due to the high level of incompetence, corruption and mismanagement of the economy under President John Dramani Mahama which has become unbearable.

Their decision, they noted, was fully supported by the National Executive Committee (NEC) of APC, the ten Regional Executive Committee (REC) and majority of the party's parliamentary candidates.
"This This endorsement of Nana Akufo-Addo has become very necessary considering the high level of incompetence, corruption, mismanagement of the economy, high rate of unemployment, killer taxes, collapsing of the Private Sector businesses, high utility Bills, nepotism, tribal politicking etc. under the 8years rule of John Mahama NDC."

They added "Enough is enough and the trending song now is change of incompetent John Mahama presidency."

The group believes strongly that only Nana Akufo-Addo can offer Ghanaians a more credible, incorruptible and transformational leadership than all the other presidential candidates contesting the 2016 general elections.