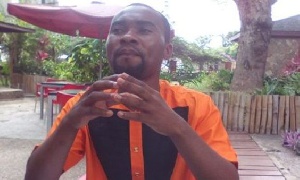 Dismissed General Secretary of the All People's Congress (APC), Razak Opoku, has revealed that all the lies he told about the presidential candidate of the New Patriotic Party, Nana Akufo-Addo were orchestrated by the National Democratic Congress.
He told a charged NPP mammoth rally at Trade Fair in Accra Sunday that he has since begged Akufo-Addo for forgiveness for the numerous vile statements he issued against him.

He once described Nana Akufo-Addo as the joke of the century.

"You have a situation whereby at the age of 72 you're still living in your father's house, this is a joke of the century. At the age of 72, you are still enjoying the drinks of kids, this is the joke of the century. You are the leader of a party, you are going into a serious election [and] you say you cannot work with your National Chairman, your General Secretary, your Second Vice Chairman. Your handlers have shown gross disrespect to President Kufuor, whereby you are using President Kufuor's achievements to say that Ghanaians should vote for you but your beloved Kennedy Agyapong said Kwadwo Mpiani and President Kufuor allegedly killed Chairman Adams and up to now you have never condemned it – he's just the joker of the century. Such a leader is Nana Akufo-Addo," he had told Accra-based Class FM.

"When we later had sense and went to Nana Akufo-Addo to beg him for forgiveness, he told us he has forgiven us," he said in Twi at the NPP's final rally ahead of the December 7 general elections.

He was on stage with Mr. Emmanuel Carl Bartels, the then running mate of APC's failed presidential candidate Hassan Ayariga.
The two were dismissed by Mr. Ayariga exactly a week ago when they announced their support for Nana Akufo-Addo.

Mr. Ayariga himself endorsed President Mahama on Wednesday.

Razak Opoku told the NPP crowd the only thing Nana Akufo-Addo required from them when they visited him, was for them to give him their full support to wrest power from the National Democratic Congress.

He noted that Nana Akufo-Addo was worried about how the country was being governed by the Mahama-led administration, expressing his determination to create jobs and rescue a worsening economy.