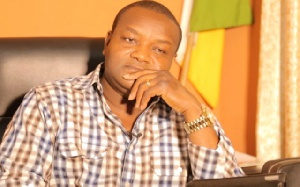 Dr Hassan Ayariga has said he will stop campaigning as the presidential nominee of the All People's Congress (APC) ahead of the December polls, but would rather focus his energy on campaigning for his party's parliamentary nominees pending the determination of a planned suit against the Electoral Commission over his disqualification from the race.
The APC founder, who was disqualified along with 12 other presidential nominees for some infractions, told journalists at a press conference on Thursday, 20 October that: "I will not campaign for myself but I will continue to campaign for my parliamentary candidates until justice is delivered."

"I will not sit at home, neither will I sit in the office; I will go round the whole country to support my candidates to win the elections and their seats".

Meanwhile, he says EC boss Charlotte Osei must apologise to the party and the people of Ghana for "lying" that he "failed to provide his residential address on the nomination form submitted to the EC", for which reason the election management body disqualified him.

He told Naa Dedei Tettey in an interview on 12Live on Thursday, 20 October, that the party had written to the EC to that effect and had given the commission a 24-hour ultimatum to render that apology.
He said the APC will head to court after the expiration of the ultimatum to vindicate its right to take part in the presidential race.

According to him, the APC did not believe in "rushing" to court, but rather saw the legal option as a last resort.

Dr Ayariga accused the EC of discrimination in the disqualification process since, according to APC founder, both the governing National Democratic Congress (NDC) and the opposition New Patriotic Party (NPP) failed to submit audited accounts required by the EC but were approved to contest in the December polls.