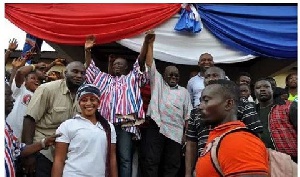 The Member of Parliament (MP) for New Edubiase who is at the center of a Bureau of National Investigation (BNI) report recommending the withdrawal of his nomination, George Boahen Oduro, says never in his life has he been investigated by the security apparatus of the State.
At a Parliamentary sitting on Thursday, April 6, 2017, Minority Leader, Haruna Iddrisu drew the House's attention to the nominee whom the BNI has recommended his withdrawal from the list of 54 nominees submitted to the legislature for approval as a deputy Minister-designate for Agriculture.

Hon. Iddrisu was contributing to the motion for the adoption of the Ninth Report of the Appointments Committee which has recommended to the House to approve the nomination of 17 deputy Ministers who appeared before it for public hearing over issues related to the portfolios they have been designated to by the President.

However, he was ruled out of order by the Speaker after his attention was drawn to the fact that the report before the House did not include the name of the nominee he was referring to.
But the New Edubiase legislator addressing journalists on the sidelines of Parliamentary sitting said the BNI got it all wrong.

"I am not aware of any report of that sort. So, if they make it available then I will see it. I had a call and a letter which I have sighted that there was a certain name – George Kwabena Oduro. So, they thought it was me. But it is mistaken identity," he noted.

Mr. George Boahen Oduro who was later vetted today by the Appointments Committee denied ever being investigated by the BNI when the issue was brought to his attention to comment on.