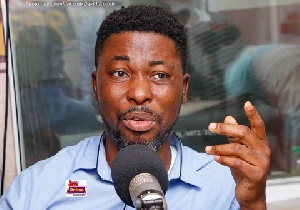 Musician and sympathizer of the ruling New Patriotic Party (NPP), Kwame Asare Obeng, popularly known as A Plus, has disclosed that he has not transacted any business with the Bulk Oil Storage and Transportation Company (BOST)in the last four months.
He failed to mention why the organization has dumped him but believes it is related to corruption allegations leveled against two Deputy Chiefs of Staff -Francis Asenso-Boakye and Samuel Abdulai Jinapor.

"They are not giving me business and you want me to walk there and waste petrol and go and cancel it when the people have cancelled it themselves or whatever," he responded  to queries on his earlier threats that he was going to terminate the contract.

"The people have canceled it themselves and some greedy people have taken over. I don't want it. The fact is that everybody must be truthful. People you have spent time with, people that way back in 2008, prior to elections, I drove them to Twedie Apempem and back. Come and tell me to go and give evidence to CID. They planned and put lawyers on the side so that they can sue me after what I give to the police", he said in a Facebook live stream.

He admitted that his approach to the allegations leveled against the two was not the best but said Brong Ahafo Regional Youth Organiser of the NPP, Kwame Baffoe alias Abronye DC had done same by heaping allegations on the Regional Minister,  wondering why are they refused to ask the police to also invite him for questioning.
"Is it because he does not matter? If you want to take me down, I will resist without a fight", he warned.

He disclosed that he has been unfairly treated reiterating that no one can prevent him from expressing his candid opinion about issues he feels strong about.

"Nobody can stop me from A to Z; I have seen too many things. Unless you kill me because I don't fear anything", he stated.