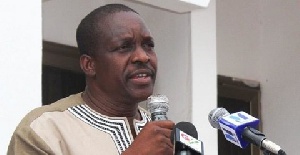 The Second Deputy Speaker of Parliament Alban Bagbin is accusing some NDC Members of Parliament of engaging in propaganda politics.
Mr Bagbin who is also an NDC flagbearer aspirant said the recent list of MPs purporting to support the candidature of ex-president John Mahama was dubious.

The Second Deputy Speaker of Parliament made the comment in an interview during his tour of the Volta Region.

There was controversy in Parliament when a list of 94 MPs claiming to support Mr Mahama's 2020 bid popped up.

According to Clement Apaak, MP for Builsa North out of a total 106 MPs in Parliament, 94 of them have thrown their weight behind ex-president John Mahama.

He said the endorsement is a testimony of Mr Mahama's continued popularity in the party and the need for him to be reelected to lead the party to victory in the 2020 elections.

But that list has been challenged by his colleague MPs many of whom claimed they were tricked into signing the list.
Yunyoo Constituency MP Joseph Bipoba Naabu who protested the inclusion of his name in the list said he was made to believe the list was for attendance in Parliament and not endorse the ex-president.

According to him, about 50 MPs on the list have since protested.

Another flagbearer hopeful Prof Joshua Alabi has since challenged Clement Apaak to make the list public.

In his first public comment on the matter, Alban Bagbin suggested the list was dubious.

"The gospel of truth, the gospel of doing things right, the gospel of representing our people are serving and sacrificing for our people and not over them.

"I am in Parliament and I am aware of what happened in Parliament. Recently a group of young MPs came out to say that 94 of them had supposedly signed a list in support of one of the yet to be declared aspirant of the position of flagbearer.
"I don't want to go into this but see that as part of the propaganda politics we have in this country," he stated.

According to him, 50 of the MPs who were on the list later came to him to explain that they were not told the list was an endorsement of the former president.

He wants the general public to discard the propaganda.

Mr Bagbin had paid a courtesy call on Asogli Chiefs in the Volta Regional capital, Ho, to ask for their blessings.