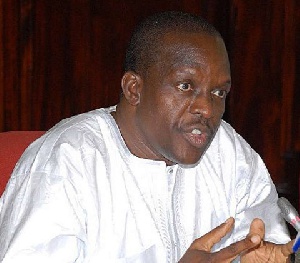 The Ghana Federation of the Disabled has described as "preposterous", Mr Alban Bagbin's statement that the appointment, by former President John Mahama, of Mr Seidu Danaa, a visually-impaired person as Minister of Chieftaincy Affairs, and Dr Edward Omane Boamah, a stammerer as Minister of Communication, played a role in the party's defeat in the 2016 elections.
Mr Bagbin told members of the party in the Volta Region, as part of his campaign to lead the NDC, that: "In our tradition, if you are not whole, can you be a chief or a queen mother? So when you form a government and make the Minister of Chieftaincy a blind person, and the chiefs are objecting and you don't change it, what are you telling the chiefs?"

"These are facts I'm stating, I have not added anything. You all know it, but maybe you may not have appreciated the impact on what happened. And when some of us are close and we can foresee it and we say it, then they are called upon to insult us."

The Second Deputy Speaker of Parliament further said the appointment of Dr Edward Omane Boamah as Minister of Communication also cost the NDC because he could not communicate government's message well due to his stuttering.

"I learnt from tradition that it is not the chief that speaks, it is the linguist and, so, when you are a leader, you must have a very good linguist.

"When Prof [Atta Mills] was in power, Haruna Iddrisu was our linguist in charge of communication, when my brother John [Mahama] came to power, he substituted him for Dr Omane Boamah who is a natural stammerer.
"He is a very intelligent boy, he is smart but when he is speaking, he wastes time in coming out and Ghanaians do not have that much patience, so, they are always looking for those that are rattling.

"So, even though you might have a good message, you will not succeed in marketing that message because somebody is there from the other side rattling and they are listening to him, so, we came down.



"You didn't realise it, I studied governance and leadership up to the Master's [level], so, I have some of these things at hand… They were some of these mistakes that cost us dearly."

Reacting to these statements, Mr Alexander Bankole Williams, spokesperson for the Ghana Federation of the Disabled, told Valentina Ofori-Afriyie on 505 on Class91.3FM that: "I think the claim by the Second Deputy Speaker is preposterous. Should it come from a leader of that calibre, his stature and the community in which he is coming from, his education among others? It shouldn't have come from him. Again that saying is very preposterous."