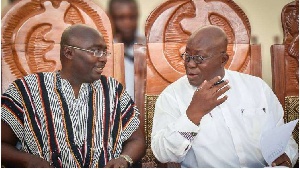 The Chief Executive Officer of the National Petroleum Authority has said Vice President Dr. Mahamudu Bawumia is logically the governing New Patriotic Party's best option after the Akufo-Addo Presidency.
Mr Tampuli who was speaking Wednesday on Starr Chat told host Bola Ray that "….with the role that he [Dr. Bawumia] has played as Chairman of the Economic Management Team, he has demonstrated beyond every reasonable doubt his pedigree would put him ahead of everybody."

He added: "As we speak now, he looks like the logical person to lead the party and that is akin to every democracy."

That notwithstanding, Mr Tampuli further pointed out that Dr Bawumia will be met with stiff competition from other persons angling to lead the NPP into the 2024 elections.

"The NPP as you know is a very Democratic Party and the process for electing flagbearer is well spelt out in the constitution of the party. I believe that he will go through the democratic process as has been enunciated in the constitution of the NPP," he stated. Former deputy Agriculture Minister William Quaitoo last year also threw his support for the Dr Bawumia candidature for 2024.
According to him, the move will help the NPP erase the perception that it is an Akan-inclined party.

"Yes, in the sense that NPP has been treated for far too long as being an Akan party, though his [Dr. Bawumia] tribe are in the minority, I think seriously that if NPP should elect Dr Bawumia as our next flag bearer when Nana steps down it will go a long way to erase this erroneous impression," replied Mr. Quiatoo on September 13, when asked if Dr Bawumia should succeed Akufo-Addo as flag bearer of the party on Starr chat.

Mr Quaitoo, who resigned for what many have described as ethnocentric comments about people from the three regions of the North thus declared that he will campaign for Dr Bawumia to become the flagbearer if the time comes.

"If the time comes and I'm alive and Dr Bawumia is contesting with another person I will campaign for him to win as the next flag bearer."