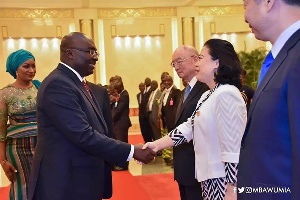 The Member of Parliament (MP) for North Tongu, Samuel Okudzeto Ablakwa has accused the Vice president of throwing dust into the eyes of Ghanaians.
According to the NDC MP, Bawumia lied by assuring Ghanaians that they would not seek any resources from any foreign nation only to go back on his word.

Mr. Samuel Okudzeto Ablakwa made his accusation when Bawumia secured a $19 billion Chinese facility to Ghana in exchange for the country's bauxite as guarantee.

Dr Bawumia explained that the country was looking to leverage less than five per cent of its bauxite deposit to secure the $19 billion deal from China, and indicated that the country was not borrowing from the China.

Speaking with Citi FM the MP said that the reason he said Dr. Bawumia had gone back on his word was that whilst he was in opposition he assured Ghanaians that the government would not be seeking external support.
Bawumia however in the past assured that whilst he was the Deputy Governor for Bank of Ghana he had received the financial landscape of the country and believed the country did not need any external support although it does not seem to be so now.

He believed Ghanaians did not need to praise him for securing the contract with China and that the bauxite was going to be used as collateral and therefore it was a loan that Bawumia had secured and nothing else.

Okudzeto Ablakwa was not the only member of the opposition to raise concern, the leader of the minority, Mr. Haruna Iddrisu also claimed that the deal was a loan and that the Ghanaian economy was not big enough to absorb 19 billion.