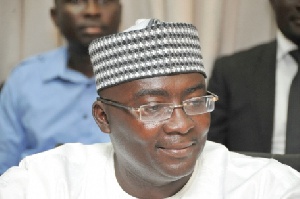 The New Patriotic Party has described as "lies" claims that running mate of Akufo-Addo, Dr. Mahamudu Bawumia has regretted joining the party.
A publication in the Informer newspaper Monday stated that Bawumia is deeply angry with his boss, Nana Addo Dankwa Akufo-Addo for masterminding the sacking of Afoko.

"I am sick and tired of the way Nana and his Akyem people are destroying the party, and I honestly regret joining the NPP," a report in the Informer stated.
But speaking on Morning Starr Monday, a deputy communications director of the NPP, Anthony Karbo described the claims as complete lies.

"Lies, lies, lies and lies that is all I would say to this report," Karbo told host of Morning Starr Nii Arday Clegg.