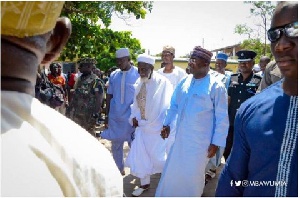 Vice President Dr Mahamudu Bawumia has reiterated the government's preparedness to adequately resource the various security agencies to clamp down on the activities of criminals, especially armed robbers, in the country.
It follows the sudden rise in crime, especially in the capital, Accra in recent times, which has claimed innocent lives.

Speaking at the Central Mosque at Abossey Okai in Accra to offer special prayers [Jummah] as part of activities to mark the 61st independence anniversary of Ghana, Dr Bawumia said with emphasis, "I want to assure the general public that President Nana Addo Dankwa Akufo-Addo is fully apprised of what is going on. I'm in constant contact with him and the recent spate of armed robberies, which are of concern to everybody, is of concern to him."

A day before, the vice president, who is acting as the president in the absence of President Akufo-Addo, met the country's security chiefs to find solution to the menace.

Soon afterwards, the Inspector General of Police announced a reshuffle within the Police Service.
According to Dr Bawumia, "This is why we are taking the measures that we are taking to restore the stability and security of this nation."

He, therefore, charged all Ghanaians to get on board in finding a lasting solution to the problem.

The Veep noted, "We [Ghanaians] are known for our peace and stability and we are going to make sure that we maintain that; we pray to Allah to give us and continue to give us peace and stability in Ghana and allow the country to move forward."