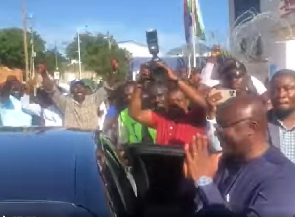 A crowd of enthusiastic fans and supporters of the Vice President, Dr. Mahamudu Bawumia, took over the premises of the New Patriotic Party (NPP) Headquarters in Accra on Monday, July 3, 2023, when their candidate was invited for vetting.
Bawumia who was vetted together with two others; Alan Kyerematen and Kwadwo Poku exited after successfully going through the vetting process and was welcomed by a massive crowd.

Chanting his name and words like 'No challenger', the fans waved frantically amidst cheers as the vice president returned to sit in his car.

Clad in a blue political suit as captured in a TV3 interview, Bawumia expressed gratitude and waved at the crowd before finally sitting in his vehicle and moving out.

Three candidates; Alan John Kyerematen, former Minister for Trade and Industry, Vice President Dr. Mahamudu Bawumia and Kwadwo Poku appeared before the committee today.

The party began its vetting process today and will end the process on July 6, 2023.

Watch the video below:


Meanwhile, the New Patriotic Party (NPP) is gearing up for a significant event in its internal selection process for the upcoming presidential primary.

On August 26, 2023, the party will hold a special delegates conference to choose five candidates who will compete in the November 4, 2023 primary.

According to the party's rules, if more than five aspirants meet the qualification criteria, a special electoral college will be assembled to finalize the selection process.

Ten aspirants have submitted their candidacy and are undergoing a vetting process initiated by the party.

The report from the vetting committee is anticipated to be released on Monday, July 10, 2023. If more than five aspirants successfully clear the vetting process, the special delegates' conference will take place on August 26.
WA

You can also watch this episode of People & Places here: