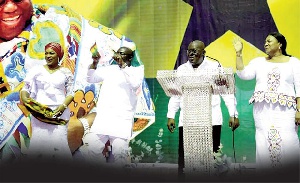 Vice President Dr Mahamudu Bawumia has observed that one may need some special grace and mercy to be able to do the kind of work that President Nana Addo Dankwa Akufo-Addo does.
According to him, the president hardly sleeps at night when everybody, including some of his own appointees, may be snoring in beds.

Dr Bawumia claims that sometimes people, including himself, wonder where the man derives his energy from – "if not by the grace of God."

The vice president made this observation yesterday when a special Islamic thanksgiving service was held at the Central Mosque as part of the national expression of gratitude to God as the country marked the one-year anniversary of the peaceful and successful elections last year.

Speaking after a Quranic recital led by the National Chief Imam, Sheikh Osman Nuhu Sharebutu in Accra, Dr Bawumia indicated that his admiration for President Akufo-Addo had grown hundred-fold since they took over the reins of government.

According to him, "He works and works us all – myself, the ministers and the DCEs and so on.
"He works us all very hard; sometimes when we close cabinet at 9:30 pm, we are happy because it is early."

Stunning Revelation

"I remember once we closed cabinet at 2am – and this is the nature of the president, Nana Addo Dankwa Akufo-Addo – he's got a passion to move this country so much and that passion is what is driving him; and it is a passion to uplift the poor and the disadvantaged in this country. This is what is driving him and this is what we are supporting him to achieve," he told an enthusiastic crowd that had gathered at the Abossey Okai Central Mosque after the prayers.

"So when you see what he is trying to do in this country, it is about helping the poor and the disadvantaged; when he says Free SHS, it is about the poor and the disadvantaged, when he says 'One village, One dam,' it is to help the poor, 'one district, one factory,' it is to help the poor and the disadvantaged; and I've grown to respect him so much about the passion," Dr Bawumia spoke highly of the first gentleman of the land.

The vice president has therefore asked Ghanaians for their prayers and support for President Akufo-Addo and his New Patriotic Party (NPP) government to govern the country with humility and compassion.
He said, "I can assure you that we will work very hard and will work honestly," eulogizing the president as a man who can never be corrupted.

With Akufo-Addo at the helm of affairs, Dr Bawumia was of the firm belief that "Ghana will move beyond aid into prosperity."



Nostalgic Memories

He recalled with nostalgia the long and tortuous road to victory right from the 2008 general elections to the 2012 elections, which ended in the Supreme Court, until victory finally came in 2016.
"In 2008, he asked me to partner him and I was very privileged and honoured to do so; we together won the first round but missed winning 50 percent plus one just by 23,000 votes in the first round. So we came very close. I think it was 49.8 percent or something in the first round. We didn't win the second round; we lost by about 40,000 votes out of over eight million votes," he recalled.

For him, that was nothing but "a heartbreaking loss, because we were so close."

Painful as it was, Dr Bawumia said President Akufo-Addo encouraged him with the following words, "We will live to fight another day and so let's give it to God and soldier on."

Then came the 2012 general elections which the NPP was optimistic of winning but eventually ended up in the Supreme Court after the party had challenged the results of the presidential poll as declared by the Electoral Commission.

But after eight long months of back-and-forth, the Supreme Court declared the results against the NPP. Dr Bawumia recounted, "And then again, when we came home, quite for me heartbroken in a way because we had made our case in the Supreme Court, Nana Akufo-Addo said to me 'let's get out and speak to the country; we have to make sure that peace and stability pertain in this country.'
"So he came out and said 'well I am not quite comfortable with the decision; I don't agree but I accept it in the interest of the peace of this country' and I think that day my respect for him went up even much more. I understood that this is a man who is in politics not for his own self but for the sake of the country," Vice President Bawumia said they were third time lucky when they decided to let the good Lord fight their battle for them, for which they chose 'The battle is the Lord's,' which eventually saw them winning the 2016 polls.

He, therefore, thanked God for how far He had brought Ghana and the NPP as a party.

The national chief imam had earlier reminded Muslims about the importance of thanksgiving because as he put it, "God has told us that when we express gratitude for what He has done for us, He will add more to it."