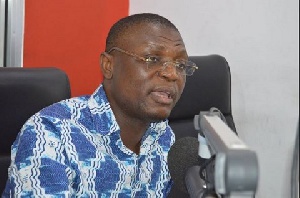 The National Organizer of the National Democratic Congress, Kofi Adams has confirmed the assertion of Dr. Tony Aidoo that Vice President Dr. Mamudu Bawumia was the Achilles heel of the NDC prior to the 2016 elections.
"Our strategist got it wrong earlier that Ghanaians will know the truth so you didn't need to take on Dr. Bawaumia. He started to present a lot of falsehood. Dr. Bawaumia was the bible of the NPP. He built a false credibility for himself anything he churned out was believed. Then he became the bible for the NPP. His utterances hurt NDC," Kofi Adams stated Speaking on 3FM Morning Show Sunrise with Winston Amoah on Wednesday.

Mr. Adams said the loss of NDC can't be laid at the doorsteps of the NDC communicators because they did their work well.

Responding to some observations made by Dr. Tony Aidoo in an interview with 3FM on Monday, Mr. Adams indicated that the very issues Dr. Mamudu Bawumia used against the NDC prior to the 2016 elections are worse now.

"Where is the cedi and the dollar? where is your fuel price? Your electricity?" He questioned why the NPP extended the IMF programme when the President openly said they were going to end it.
Citing an example of the members of the Ghana Union of Traders Association who are currently agitating for some reduction in taxes and duties, Mr. Kofi Adams was of the view that GUTA is now disappointed in the government.

"Before elections GUTA thought that the then government (NDC) was punishing them. I don't think that if his Excellency the Vice President goes there and engages them and give them the story that he was given before the 2016 elections they will listen to him.

"If they don't stone him, it is because he is the vice president of the country and they can't do so. If they don't hoot at him it is because maybe per our Ghanaian culture sometimes we don't want to do that to our leaders.

But in their group conversations all of them have come to conclusion that they have been deceived."