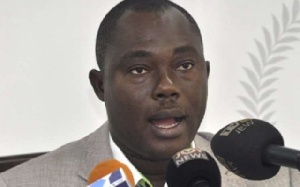 A senior lecturer in political science at the University of Ghana, Dr Ransford Gyampo, has urged Ghanaians to be discerning in the wake of an avalanche of campaign promises by political parties ahead of this year's elections.
According to Dr. Gyampo, who spoke in an interview with Class News, the tradition of political parties doling out too many promises in an election year without prioritising the most pressing issues leaves a lot to be desired.

He, therefore, called on the country's electorate to peg candidates on the basis of what they can achieve and their proven commitment to solving pertinent problems.

"Why won't politicians focus on let's say 2,3,4,5 key issues, address them, and address them very well and get out of the scene? If you fix the problem very well and get out of the scene, people tomorrow will mention your name and say you did this but if you [keep] pussyfooting [about] problems and you touch on all problems and scratch the surfaces, then at the end of the day you have done nothing and nobody remembers you for anything and you undermine our efforts to develop ourselves. So my point is that President Mahama could have decided to focus on only four issues, solve them and solve them very well [and] make sure that our power crisis does not come again," he stated.
"Politicians are now making it difficult for us to even teach political science because the students have a derogatory, but sometimes deserving, conception that politicians are liars, politics is dirty, and it stems from the fact that campaign promises that are made, almost invariably, are not redeemed or fulfilled. It's not all about winning elections, it's not all about politicking, it's not all about reading the minds of the opposition and thinking about what they may say and saying it [first] just to score political points; that is not the case. Governance is not all about winning election, governance is about serving your nation and serving the interest of your people that you swore to serve."

Dr Gyampo noted that in the face of all the promises made by politicians ahead of the polls in December "the people should be discerning".

"...Some of the promises [from the NDC manifesto highlights] were simply things that were discussed in previous manifestos and could not be redeemed, so my point is that people should be discerning and we should be able to look straight into the face of politicians and tell them that: 'If you don't take us seriously, we are not going to vote for you,'" he added.