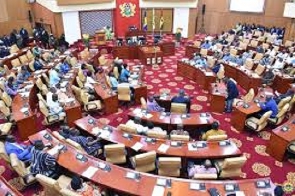 Journalists Against LGBTQI+ have called on the members of the House of Legislature to carefully scrutinise the anti-gay bill laid before Parliament.
"We write to urge Members of Parliament (MPs) on to scrutinise the Bill on the Promotion of Proper Sexual Human Rights and Family Values to be laid before it today," the group said in a statement issued and signed by its convener Isaac Boamah Darko.

"As a group seeking for the Bill to be passed into law to criminalise the practice of such babarious, inhumane and ungodly act, we would like to urge our noble parliamentarians on to be guided by our moral and cultural values," the group noted.
Making reference to Uganda's passing of the anti-gay bill recently, it called on Ghanaian "parliamentarians to take a cue from Uganda and be inspired to give strong support for the passage of the Bill," in the country.

They commended the Speaker of Parliament, Rt Hon Alban Bagbin, for "following through to commence discussion on the Bill and recommend his utmost focus to avoid being influenced by the Westerners who may want to divert his attention."