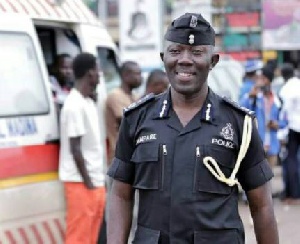 The Director of Operations for the Ghana Police Service, COP Dr George Akuffo-Dampare, has asked the general public to take their personal security seriously in their communities.
According to him, although the Police are there to ensure safety, it is incumbent on members of the public to be extra vigilante and cautious in their homes and places of work.

He explained that the Police, all over the world, work hand-in-hand with the public to fight crime and so the Ghanaian public must also assist the Police by sharing information to the Police and also remain alert in identifying criminals.

His comment comes in the wake of the arrest of a group of nine suspected robbers by police in connection with raids at several forex bureau at Spintex in the Greater Accra region.
COP Dampre told Chief Jerry Forson, host of the Ghana Yensom show on Accra 100.5FM on Wednesday, 28 February 2018 that: "We have taken several steps to deal with robbery in the country and so we want to assure the public of their safety."

He added: "We want the public to also support us in the fight against robbery. One way they can support is by being vigilant and security conscious in their environment."

He added that although the Police service has not received all the logistics needed in the fight against crime, the ones that have been supplied by the government will be put to good use to ensure safety of Ghanaians.