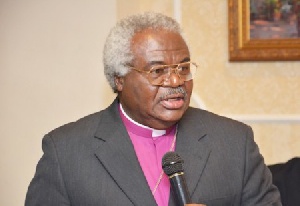 Former Moderator of the Presbyterian Church of Ghana, Prof. Emmanuel Martey has warned President Akufo-Addo of some corrupt individuals within his administration as he yearns to maintain a clean government.
According to him, with time the evidence of the rot will surface, and the corrupt government officials will soon be exposed.

Speaking on the menace of corruption at a Public Lecture organised by the Christian Service University College (CSUC) in Kumasi., Prof. Martey said the recent arrest of the NPP regional Organiser, Daniel Agyenim Boateng points to a worrying trend.

"We must speak against corruption. And we all know that the present government-NPP, there are corrupt appointees and our President should be careful. Here, just a week or so, NPP Regional organiser-Boateng who went about collecting monies to give government jobs. When he was caught he said he will pay the money. But before he was caught he'd been appointed a position at Metro Mass Transit. Now you could imagine if such a person goes to the Metro Mass Area; No it's a matter of time, we shall catch them…"

The outspoken bishop said the government must prioritize issues of corruption and ensure drastic actions are taken against corrupt government officials.
"A large Government means large corruption. So we should have a constitutional direction. NPP and corruption, I said clearly that what has been proven, the NPP appointees have begun showing signs of corruption."

Meanwhile, this is not his[Prof. Martey] first public criticisms against the Akufo-Addo government since it was inaugurated in January 2017.

Some few months ago, he made similar comments accusing the ruling NPP of having some bad elements.

The anti-corruption campaigner was a pain in the neck of the former NDC government which he condemned as corrupt.