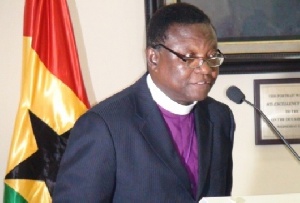 The National Peace Council has slammed the outgoing Moderator of the Presbyterian Church of Ghana Rev. Professor Emmanuel Martey over claims that government officials attempted to lobby him to be Chairman of the Council.
The outspoken Presby boss revealed last week that although the Peace Council nominated him to be on the Council, he had a funny feeling about taking the position.

He alleged that the deputy Interior minister James Agalga called him and made the offer.

"So I told God about it. I don't do anything without first consulting my friend the Holy Spirit. Few days to the inauguration of the Peace Council, I had a missed call; I didn't know the person so I didn't call back.

"So the person sent a text message, it was the Deputy Minister of Interior, [James] Agalga. So immediately something said call so I called back. He was then at the house so he came out.

"First I said, 'yes, this is the Rev. Prof. Martey, Moderator of the Presbyterian Church of Ghana,' but you know something, the Holy Spirit blinded his mind so he didn't even hear that it was the Presby Moderator who was talking to him.
"The Holy Spirit wanted him to tell me what he has for me, to help me decide whether or not to be a member of the Peace Council. He said he had a meeting with the Minister of Interior and they both agreed that I become the Chairman of the Peace Council," Rev. Martey said.

But the Interior Ministry has categorically denied the claims stating that Mr. Agalga could not have lobbied the former Moderator because the law grants him no such power.

Addressing a Press Conference Tuesday, Chairman of the Peace Council Rev. Professor Emmanuel Asante described the claims by the outgoing moderator boss as "unfortunate and misleading".

According to Prof. Asante, the comments by the respected Christian leader clearly undermines and questions the council's integrity.