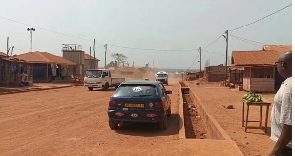 Some residents of three communities in Ahafo Ano South West district of the Ashanti Region have hinted at planned demonstrations to protest against bad roads in their area.
The 30-kilometre road that links Beposo, Mankranso and Kunsu, which according to the residents, the assembly has failed to heed to their concerns over the poor road.

As part of the protest, they have also threatened to boycott the upcoming local government elections if the government fails to address their concerns.

The demonstration is scheduled for Saturday, January 14, 2023, and it will be done by blocking the Beposo-Mankranso-Kunsu road stretch.

Assembly Member of Beposo Electrical Area, Alexander Nyamekeye, leader of the demonstration, stated that the communities had not seen any improvement on the road.

He said the situation has made it difficult for drivers to transport farm produce and passengers to other communities, affecting their business activities.
Hon Alexander Nyamekeye, who is also the former Communication Director for NDC in Ahafo Ano South West constituency, told Otec News reporter Ebenezer Owusu Ansah that they are "fed up with the government lies."

According to him, they have called on appropriate quarters for assistance but have not received any positive response, since the contractor, Kofi Job Constructions Limited, left the site two years ago.

"We have lodged several complaints about the bad nature of the roads to the Assembly and the MP but they have all given us deaf ears. Now nothing will stop us from our intended demonstration," he angrily said.

He lamented that the communities go through a lot of difficulties both in the rainy and dry seasons which resorts to health implications like catarrh and other respiratory diseases.

He opined that some people including pregnant women have lost their lives on the road because drivers were unable to speed up to rush people in critical conditions to the hospital.