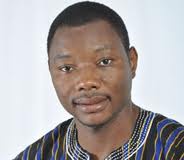 The Chairman of the People's National Convention (PNC), Bernard Mornah has said he'll sue the Police service for abuse of his human rights.
Mr Mornah and 12 others including security analyst, Irbad Ibrahim who were part of a group, Ghana-Togo Solidarity movement, staging a peaceful march Saturday morning in solidarity with the political crisis in Togo were rounded up by the Police for allegedly embarking on an illegal protest.

Police had indicated their action was in clear breach of the Public Order Act hence their arrest.

But Bernard Mornah told Starr News he has instructed his lawyer to institute legal action against the police administration, adding that government is complicit in the happenings in Togo hence the instruction to the police to clamp down on the protesters.
"Subjecting us to such public ridicule indeed I was picked like a piece of wood and thrown into the bucket of a pickup. Two policemen jumped into the car with their guns at my head as if I were the most notorious armed robber they've arrested or the terrorist that they've captured and I feel totally scandalized by this behaviour of our police and I can't just sit down. So I have instructed my lawyers to proceed to court on this matter to ensure that my human rights abuses are fully compensated for. My spirit will not be daunted by what the police did.

Reacting to claims by the police that they ignored their advice and went ahead with the protest, Bernard Mornah said "The police is behaving irresponsibly and they're behaving like people who have not gone to primary school. Don't they know what the public order Act says? That if they have compelling reasons for which they'll not be able to come and secure our rally, they needed to go to a court of competent jurisdiction to grant them their wish so that they can serve them with a prohibition order, asked them whether they secured any order?"

In October this year the police arrested 26 Togolese Nationals who converged in Accra to demonstrate and arraigned them before court.