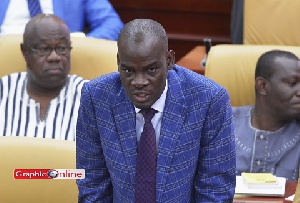 The Minority Leader in Parliament, Mr Haruna Iddrisu, has supported the plan to convert the Wa Campus of the University for Development Studies into a fully-fledged university, saying that the new university will provide access to higher education for the people in the region.
The Tamale South MP said although universities in Ghana are churning out graduates, most of whom end up jobless, it is better to have an educated people than an uneducated population.

He told Parliament on Tuesday, 16 July 2019 after the Minister of State in charge of Tertiary Education, Prof Kwesi Yankah moved a motion for the conversion process.

The Minority Leader said: "Access, quality and relevance remain the three germane problems in higher education in Ghana", adding: "What are we doing to expand access to higher education? Undoubtedly, the conversion of the Wa campus may be one of the contributions to deal with the access problem".

"By the establishment of two other universities out of the University for Development Studies, which was created in May 1992 thanks to President Jerry John Rawlings and that has changed the economy of the entire Ghana, we are having a number of young graduates in Ghana, even though unemployed, it is a positive thing for the country. It is better to have a population [of] educated unemployed [people] than a population which is uneducated and unemployed."

Moving the motion for the conversion of the Wa campus of UDS into an autonomous university to be known as the University of Business and Integrated Development Studies, Prof Yankah told parliament that the Upper West Region has been one of the poorest regions in the country.

Therefore, with the establishment of a full university in that part of the country, businesses and other economic-related activities are going to be attracted to that area.
He also told Parliament that the university forms part of government policy to have one public university in all the regions of Ghana.

"This is in accordance with the government's policy to have a publicly-funded university in each region of the country," he said.

He added: "The faculty development studies, faculty of planning and management school of business and faculty of education; these programmes will form the nucleus of the new university.

"The upgrade of the Wa campus to a fully-fledged university was recommended because the Upper West Region is the poorest in the country. The region needs to be developed with resources.

"The Wa campus is also far from Tamale. The upgrade provides access to tertiary education for national development for people in the locality and to improve the lives of the people in the region."