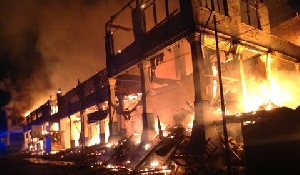 Authorities at the Biriwa Vocational Training and Rehabilitation Institute (VTRI) have appealed to philanthropists, corporate organisations and the general public to support the Institute renovate its burnt girls' hostel.
Fire gutted the girls' hostel of the Institute on Thursday, September 20, 2018 and burnt part of the hostel together with students' belongings worth thousands of cedis.

Six of the affected 12 rooms were bunt to ashes and had about 370 female students displaced.

Speaking at a thanksgiving service to psyche up staff and trainees of the Institute on Friday, the Manager, Mr Samuel Kwashie Amegbor said the affected girls were currently struggling for sleeping space in the school.

He said the institute needed about 155 roofing sheets, 195 pieces of 2/6 timber, 200 bags of cement, electrical conduit, fittings and wires, paints, four trip of 18 cubic sand, two trip of cubic stones, 70 pieces of plywood to get the burnt building in shape.

Mr Amegbor said management together with the P.T.A was putting resources together to convert the proposed cafeteria building into a temporal hostel for the displaced trainees and called for support.
He however expressed gratitude to the Government, some individuals and other sister institutions for their support.

So far, the Institute has received donations in various forms from the Assin Fosu, Takoradi, Kumasi, Charlotte Dolpyne and Our Lady of Fatima Vocational Training Institutes.

Others are the A.M.E Zion Church in Cape Coast, Abek Metal Works, Kwagyir Aggrey SHS, P.T.A, Management and staff of Biriwa RVTI and Ko Champions, one of their suppliers.

The National Disaster Management Organisation (NADMO), the Central Regional Coordinating Council and the Mfantseman Municipal Assembly have also donated some mattresses, bags of rice, cooking oil, plastic cups and plates, mosquito nets and coils and other items to the school.

Presenting the items, Mr Thomas Yaw Adjei Baffour, Deputy Central Regional Minister told the affected students to console themselves with the fact that they were alive and urged them to make good use of their time to study.
He implored NADMO to put in place measures to prevent disasters instead of always managing them adding that, "it is better to prevent than to manage".

Mrs Mawusi Nudekor Awity, Executive Director of National Vocation Training Institute (NVTI) encouraged the students to be strong and study hard to excel.

She advised them against looking down on themselves because they were NVTI students, saying, "You must be proud of where you are, it is not by mistake that you are here, you made the right decision to be here".

Sharing her experience, Ms Esther Arthur an affected trainee narrated how the fire consumed her belongings while she looked on helpless, adding that, she had been psychologically affected and it was difficult for her to take it out of her mind.